Welcome.
We hope you are excited about the upcoming school year. We want our website to be useful to you. Below is a quick overview of our website.
Alerts
We will  post alerts regarding school closings or schedule changes. You will see them in orange in the sidebar on our front page. Below is an example of alerts: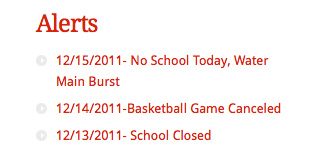 You can also access a full list or our recent alerts from our top menu:

News and Events
Be sure to bookmark our News and Events blog. You can subscribe using an RSS reader like Outlook or Google Reader. We will be posting highlights of our latest student activities.
Calendar
Our school calendar will keep you up to date each week. You can subscribe to our calendar with Google Calendar to keep up to date with school events.
Policies
Our full policy is outlined in our Student Handbook, but a quick overview is available.