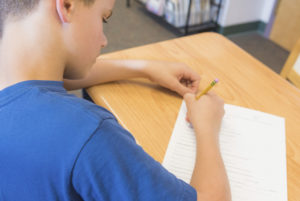 The purpose of homework in all cases is to amplify and reinforce classroom instruction, and not to stand in its place; to develop individual study habits; and to encourage a sense of responsibility and of organization in a developing and inquiring mind. The philosophy of the school is to organize the daily and weekly schedules so that students may attend Wednesday evening prayer meeting with their parents. Due to the uncertainties of the educational process (e.g. shortened school; sickness; spontaneous discussions; school cancellations), Wednesday homework is sporadically inevitable.
Teachers may handle late or unfinished assignments according to their own discretion. Notice should be given to the Headmaster and to the parents when late or incomplete work begins to follow a pattern.  Assignments and their due dates will be clear and specific. Students in all grades are encouraged to use assignment books. Assignments should be individualized when this is required by the specific needs of the student.
At the beginning of the year each teacher should clearly state what should be done if an emergency happens at home and assigned work is completed only in part or not at all. (i.e. note from home, request to work at recess, etc.)
Young children learn best under careful guidance by the teacher or parent. Little, if any, homework is given in grades one or two. However, since parents can be of invaluable help in building skills in reading and numbers, their help will be called upon at the proper time.
Third and fourth grade assignments should not exceed 1/2 to 1-1/2 hours per evening. Fifth and sixth grade assignments should not exceed 1 to 1-1/2 hours per evening. Seventh and Eighth grade assignments should not exceed two hours.
In addition to regular homework, students may be assigned long-term projects or research papers.
Homework is rarely to be given over the weekends other than standing assignments for Bible and Catechism memorization. We discourage the children from using the Lord's Day for doing homework.  We encourage Sunday afternoon to be used for the purpose of memorization, Bible study, and prayer. We also encourage attendance at prayer meeting on Wednesday evenings.
Make Up Work
If a student is absent, parents should contact the teacher regarding missed assignments. In the case of illness, the teacher must determine which assignments should be completed and which assignments should be waived in order to keep up with the necessary skills.
A student who has been absent is responsible for making arrangements with his teachers to make up all missed tests, papers, homework, and/or related schoolwork.  In the case of excused absences, length of time for making up this work shall be at the discretion of teachers or the Headmaster.  All work, if possible, should be completed within the marking period.
MEMORY WORK
The memory work consists of Scripture verses and catechetical answers. In most cases the Scripture is that from which the catechetical answer is derived.  It is expected that parents will review the past memory work with the child in the home.
Note:  Bible memory will be learned based on the English Standard Version of the Bible unless otherwise indicated.
A complete list of the memory work for each grade follows.
Kindergarten
Psalm 23 (KJV)
Psalm 100
John 3:16
John 4:24
John 10:11
Catechism questions 1 to 49
John 10:14
Matthew 6: 9-13
The  Lord's Prayer – (KJV)
I John 1 :8-10
I John 3:20
First Grade
Psalm 1:1-6
Psalm 139:23-24
Luke 2:6-20
John 10:27,28
Acts 4:12
Romans 5:19
Names of the books of the Old Testament
Catechism for Young Children: Questions 49 to 10
Second Grade
Psalm 24:1-10
Psalm 119:105
Psalm 121:1-8
Matthew 10:2-4
Matthew 28:1-6
John 6:35
John 8:12
John 10:9
John 15:5
Names of the tribes of Israel
Names of the books of the New Testament
Catechism for Young Children: Questions 100 to 138
Third Grade
Catechism for Young Children (ESV 2012 edition) from Grace Baptist Church
1. Catechism #1-4
2. I Corinthians 10:31
3. Catechism #5-8
4. Catechism #9-12
5. John 4:24
6. Catechism #13-16
7. Genesis 1:27
8. Catechism #17-20
9. Matthew 10:28
10. Catechism #21-24
11. Catechism #25-27
12. Catechism #28-30
13. John 3:16
14. Catechism #31-33
15. Romans 5:12
16. Catechism #34-35
17. Romans 5:18
18. Catechism #36-38
19. Catechism #39-40
20. Catechism #41-42
21. Romans 3:23-24
22. Romans 3:24-25
23. Catechism #43-44
24. Catechism #45-46
25. Catechism #47-48
26. Matthew 5:1-4  The Beatitudes  (preparing for chapel recitation)
27. Matthew 5:1-8
28. Matthew 5: 1-11
29. Matthew 5: 1-12
30. Catechism #49-50
31. Catechism #51-52
32. Acts 2:38
33. Catechism #53-54
34. Catechism #55-57
35. Catechism #58-59
*We will also memorize a condensed form of the 10 Commandments that 3rd graders will be quizzed on several times throughout the school year.
Fourth Grade
Catechism for Young Children (revised 2012)
Questions #60-99
Bible memory work:
Matthew 11:27-28
Hebrew 1:3b
Philippians 2:10-11
Matthew 22:37-40
Romans 2:13
I John 2:3-5a
Exodus 20:3 (1st commandment – also Q #76)
Luke 14:26
Exodus 20:4-6 (2nd commandment -also Q #78)
Exodus 20:7 (3rd commandment – also Q #80)
Ecclesiastes 5:2
Exodus 20:8-11 (4th commandment – also Q #82)
Exodus 20:12 (5th commandment – also Q #86)
Ephesians 6:1-2
Exodus 20:13 (6th commandment – also Q #88)
Matthew 5:21-22a
Exodus 20:14 (7th commandment – also Q #90)
Exodus 20:15 (8th commandment – also Q # 92)
Ephesians 4:28
Exodus 20:16 (9th commandment – also Q #94)
Ephesians 4:25
Exodus 20:17 (10th commandment – also Q #96)
Hebrews 13:5-6
Review the 10 Commandments
Fifth Grade
The Shorter Catechism with Scripture Proofs (Banner of Truth) Qustions 1-26
Catechism #1 1 Cor. 10:31, Ps. 73:25-26
Catechism #2 2 Tim. 3:16
Catechism #3 Micah 6:8
Catechism #4 John 4:24, Ps. 90:2
Catechism #5, 6
Catechism #7 Eph. 1:4, 11
Catechism #8, 9 Heb. 11:3. Gen 1:31
Catechism #10 Gen. 1:28
Catechism #11
Catechism #12
Catechism #13
Catechism #14, 1 John 3:4
Catechism #15
Catechism #16
Catechism #17 Rom. 5:12, Rom 3:16
Catechism #18
Catechism #19
Catechism #20 Eph. 1:4
Catechism #21 1 Tim. 2:5
Catechism #22
Catechism #23 Acts 3:22, Heb. 5:6, Ps 2:6
Catechism #24
Catechism #25
Catechism #26 Isa. 33:22
Psalm 8
Psalm 19
Sixth Grade
Bible Guide C, The Gospels and Acts (CSI)
The Shorter Catechism with Scripture Proofs (Banner of Truth)
Questions 63-82
Catechism #63      Romans 13:1-3
Catechism #64
Catechism #65      Romans 13:7,8
Catechism #66      Ephesians 6:1-3
Catechism #67      Matthew 5:22
Catechism #68
Catechism #69      Genesis 9:6
Catechism #70      Matthew 5:28
Catechism #71
Catechism #72      Ephesians 5:3-5
Catechism #73      Acts 5:3,4
Catechism #74
Catechism #75      Ephesians 4:28
Catechism #76      Colossians 3:9,10
Catechism #77
Catechism #78
Catechism #79      Hebrews 13:5
Catechism #80
Catechism #81      I Corinthians 10:10
Catechism #82      Romans 3:10-12
Seventh and Eighth Grade
(For Sept. with years ending in even numbers)
The Shorter Catechism with Scripture Proofs (Banner of Truth)
Questions 83 through 97
Catechism questions 83 – 97
Catechism questions 95 is altered to reflect Biblical teaching
Questions – To whom is baptism to be administered?
Answer – Baptism is to be administered only to those who profess their faith in, and obedience to, Christ.
Hebrews 10:28, 29
Matthew 11:23, 24
Romans 6:23
Romans 10:9, 10
Acts 2:38
Hebrews 11:1-3
Proverbs 28:13
Matthew 28:19, 20
Romans 10:14, 15
I Peter 2:1-2
Psalm 119:11
Hebrews 4:2
I Peter 3:21
James 1:25
Romans 4:11
I Corinthians 3:6, 7
Matthew 28:19, I Corinthians 11:23-26
Romans 6:3, 4
Acts 8:36, 37
I Corinthians 10:16
I Corinthians 11:28, 29
Isaiah 55:1-11
Seventh and Eighth Grade
(for Sept. with years ending in odd numbers)
Old Testament scriptures
The Shorter Catechism with Scripture Proofs (Banner of Truth)
Questions 98 through 107
Matthew 7:7
Hebrews 4:16
Philippians 4:6
Matthew 6:9-13
Romans 8:15
I Thessalonians 5:16-18
Psalm 100
Luke 17:20, 21
Psalm 40:6-8
Proverbs 30:8
Psalm 119:34-36
Psalm 51:1
Matthew 6:31-34
James 1:12-14
Revelation 4: 11
Matthew 26:26-28
John 10:14-18, 26-30
Romans 3:21-26
Hebrews 10:4-14
Isaiah 53:1-12
Names of the 12 Disciples
Catechism #98 through 107